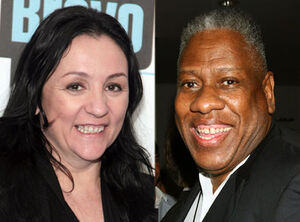 All good things must come to an end--and it's time to say goodbye to America's Next Top Model judge, Andre Leon Talley. Replacing him is fashion publicist and PR queen, Kelly Cutrone, who will be starting in Cycle 18.
However, the replacement is completely amicable. Executive producer of ANTM, Ken Mok, assures us that everyone enjoyed working with Talley and that they wish him well in his future endeavors.
Talley himself is comfortable with the replacement. He says the split was entirely mutual, refers to the show as "a great ride" and says he enjoyed his time there.
Are you sad to see Talley go, excited to see a new judge, or both? Comment below, and tell us what you think!

Source: E Online
Ad blocker interference detected!
Wikia is a free-to-use site that makes money from advertising. We have a modified experience for viewers using ad blockers

Wikia is not accessible if you've made further modifications. Remove the custom ad blocker rule(s) and the page will load as expected.