Ad blocker interference detected!
Wikia is a free-to-use site that makes money from advertising. We have a modified experience for viewers using ad blockers

Wikia is not accessible if you've made further modifications. Remove the custom ad blocker rule(s) and the page will load as expected.
Toccara Elaine Jones (born March 13, 1981) from Dayton, Ohio, is an American actress,
model and television personality. Jones was a contestant on the third season of the
UPN
series
America's Next Top Model
.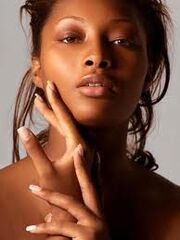 Biography
Edit
Jones attended Stivers School for the Arts in Dayton, where she majored in dance.
She was the seventh contestant eliminated on the third cycle of America's Next Top Model, where she won "CoverGirl of the Week" four times. She was recently voted as one of the most memorable contestants by AOL Entertainment[1]
a lovely person inside and out!
Modeling career
Edit
Since ANTM, Jones signed with Wilhelmina Models as a plus-size model. She has been on the covers of Be, The Next Level Magazine (November 2005), Black Men magazine, Black Hair magazine, Braids magazine, and King magazine (February/March 2006, March/April 2006, and April 2008).
Jones has modeled for Ashley Stewart, New York and Company, Target, Essence magazine, Vibe magazine, King magazine and Smooth magazine. Her runway shows include Hot 97's Third Annual Full Frontal Hip Hop Fashion Show, Luxe & Romance Fall 2005, BET Presents: Rip The Runway 2, Ellegirl presents Dare To Be You: Wal-Mart Meets America's Next Top Models 2005 and Alice & Olivia Fall 2006. Jones was also selected to be part of the 2007 Rocawear I Will Not Lose campaign representing the Rocawear plus-size line for full-figured females.
She is also the second black plus-size entertainer (after Jennifer Hudson) and first black plus-size model to appear in Vogue.
Television
Edit
She has co-hosted an episode of 106 & Park. She also occasionally appears on The Tyra Banks Show. In one talent episode, she served as a judge. She also hosted America's Next Thick and Sexy Model on the show. She recently was one of the former Top Model girls who appeared in post show interviews in America's Next Top Model: Exposed.
She also appeared on the second season of the VH1 series Celebrity Fit Club. During the show, she lost 32 lb (15 kg) to get down to 173 lbs. Toccara wanted to weigh 180 lb (82 kg) because it was "good for her career". Toccara gained 14 lbs back and currently appears on Celebrity Fit Club: Boot Camp, which puts celebrities from past seasons up against new celebrities, and which premiered in March 2008. She ended the show weighing in at 166 pounds, surpassing her weight loss goal by 7 pounds.
She was a correspondent for The Black Carpet, which airs on BET. She also appeared on the first season of Celebrity Paranormal Project. Jones is currently a host for BET's game show series Take the Cake.She has recently been awarded a Fiercee Award (from a special ANTM award show held by Tyra) for her lifetime achievement, being the fiercest contestant ever.
She made a cameo appearance in Trina's music video for the song "I Got a Thang For You".
Appearances
Edit
Take the Cake (2007) .... Host
Celebrity Paranormal Project (1 episode, 2006)
E! True Hollywood Story .... Herself (1 episode, 2006)
The Tyra Banks Show .... Herself (6 episodes, 2005-2006, 2008 )
Girlfriends .... Waitress (1 episode, 2005)
All of Us .... Marsha (1 episode, 2005)
Celebrity Fit Club (2005) TV Series .... Herself (season 2)
America's Next Top Model .... Herself (Season 3, 2004)
Celebrity Fit Club (2008) TV Series ....Herself (Season 6)
"I Got A Thang For You" (2008) extra in Trina's music video
14 Pages in Italian Vogue Magazine (2008) WOW!!!!
References
Edit