Tiffany Richardson
is an American fashion model who was eliminated in a double elimination along with
Rebecca Epley
on cycle 4. She is known for aggrivating Tyra Banks so much in her elimination that Banks resorted to shouting at her.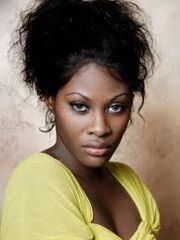 Before the show
Tiffany lived with her grand-mother and has a child.
ANTM
Tiffany auditioned for cycle 3 but got into a bar fight and as such didn't make it in the house. She came back for the following cycle, having taking anger management classes. She touched Tyra's heart by revealing that her grand-mother had had her lights turned off for several days in order to buy her a swimsuit for the audition. She made it into the house and was an early front-runner, getting called second on the first week which was edited as a first call-out. She got drunk at the first party the girls went and tried to take Brandy Rusher under her wing, getting very emotional when she was eliminated.
However Tiffany's motivation began sinking as she felt the challenges were humiliating. This defeatist attitude got her eliminated in a double elimination which was aimed to get the remaining model back to work after a bad week. When she tried to calm down the girls who were crying at her elimination and started joking, Tyra Banks yelled at her in one of the most famous ANTM moments.
After the show
Tiffany has gotten married with her longtime boyfriend. She has left the industry.