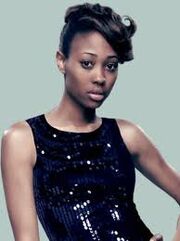 Terra White
is an African-American fashion model, who competed on Cycle 15 with her younger sister,
Chris White
, and she placed 13th.
Cycle 15
Terra was the last girl called into the Top Model house. Terra landed in the bottom two after the first photoshoot due to her nerves and poor photo and film. Fortunately for her, she was spared because Anamaria Mirdita was deemed to be too thin, so she was sent home. The next episode, Terra had her makeover to which she reacted badly (her hair was cut much shorter) and her contrived and bad posing led to the Jays deciding that she should go home.
After America's Next Top Model
Terra admitted that she had tried out for the show four times before, but had not got through. She also stated she wants to pursue modelling, because it is her dream.
Ad blocker interference detected!
Wikia is a free-to-use site that makes money from advertising. We have a modified experience for viewers using ad blockers

Wikia is not accessible if you've made further modifications. Remove the custom ad blocker rule(s) and the page will load as expected.