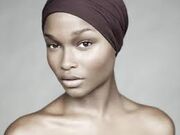 Sundai Love
is an African-American fashion model, who came in 5th place on Cycle 13 of America's Next Top Model
Cycle 13
Sundai was the shortest girl on her cycle (she stands at just 5ft 3in) and was the last girl to be called into the model house (although this was later revealed to be edited, and she was in fact the second to last girl called into the house, with Laura Kirkpatrick truly being the last girl chosen to go into the house). Sundai never had a first, second or third call-out, Sundai made it to the final 5 girls, but was eliminated for not being as strong as her competitors (Nicole, Laura, Jennifer and Erin).
After America's Next Top Model
Sundai has become a member of the Bella Petite Model club (for models under 5ft 5in) and has appeared on the cover of their magazine.
Sundai was casted for Power Rangers Megaforce and she didn't pass through the finals. Her fellow semifinalist Ciara Hanna passed for the final casting in Megaforce.[1]
References