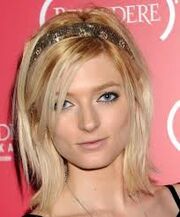 Sophie Sumner is a British fashion model known for being the runner-up of Britain's Next Top Model, Cycle 5 and for being the winner of America's Next Top Mode: British Invasion.
Childhood Life
Born on 15 January 1990 in Oxford, England, the daughter of Lloyd Sumner, an electrician, and Nancy (née Redman), an English teacher. She has three siblings, all of whom are younger: Anna, Jeffrey, and Joseph. Sumner spent the majority of her early years in Oxford, England. She studied at Headington School, a private boarding school for girls, in Oxford where she met and befriended Harry Potter actress Emma Watson. Throughout her time at Headington School, Sumner was occasionally mocked for her slim figure and mousy brown hair. But being an active member of the school's field hockey team increased her self-esteem drastically. After going on a summer vacation to Penetanguishene, Ontario, Canada Sumner began colouring her hair blonde. Sumner had plans to complete a degree at Exeter University, but decided to defer it to focus on modelling after successfully auditioning for Britain's Next Top Model.
Britain's Next Top Model
Sumner was a part of the cast of Britain's Next Top Model, Cycle 5, and was the 10th girl chosen to enter the top model house, due to her unconventional and unique look. However, Sumner's first week in the main part of the competition was a negative one, as Sumner struggled at the photoshoot and produced a photo deemed weak. It was in the 4th episode that Sumner became a true stand-out, with her photo being deemed as the best in the bunch, earning her a first-call out. Afterwards, Sumner avoided the bottom two and produced strong photographs, but notably landed in the bottom two again in episode 8, for her seemingly bad attitude and know-it-all personality, however, the judges rejected the idea of Sumner being a know-it-all, saving her from the bottom two. Sumner made it all the way to the final 2, but was beaten by Mecia Simson.
America's Next Top Model
Sumner was chosen as one of the 7 British All-Stars to compete in America's Next Top Model: British Invasion, along with her fellow Cycle 5 contestants Annaliese & Ashley The judges regard her personality as "lit up a room", leading to her being labelled as "Illuminata" by Banks herself. Sumner earned a total of 2 first call-outs (center piece at a party tooch photoshoot, and Dream Come True photoshoot), 4 second call-outs, and 3 third call-outs. Her consistency, personality, runway walk and portfolio led to Sumner becoming the eighteenth winner of the show, over Laura LaFrate.
Simultaneously, Sumner becomes the first foreign winner of the show. Sumner's win also means that quite like other winners such as Jaslene Gonzalez, McKey Sullivan, Nicole Fox, Krista White she is the fifth winner without any appearances in the bottom two.
Ad blocker interference detected!
Wikia is a free-to-use site that makes money from advertising. We have a modified experience for viewers using ad blockers

Wikia is not accessible if you've made further modifications. Remove the custom ad blocker rule(s) and the page will load as expected.