Shannon Niquette Ratliff (née Stewart)
(born June 6 1984) from Franklin, Ohio was the runner-up on cycle 1. She was also first runner-up in the Miss Ohio USA pageant in 2005, and a semi-finalist in that pageant in 2006.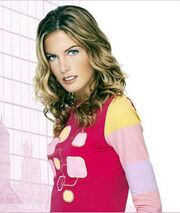 America's Next Top Model
Stewart competed on the first season of America's Next Top Model. She and fellow contestant Robin Manning caused controversy when they refused to pose nude because of their Christian faith. However, this did not hinder Stewart's progression in the competition finishing second overall to Adrianne Curry. She was known on the show as the very "commercial and apple-pie girl". She had 3 first call-outs.
Modeling career
Stewart signed with Elite Models in Chicago and Major Model Management.
She has modeled for Nuj Novakhett, Elle Girl Magazine, Teen Vogue, Sydney Magazine, Six Degrees Magazine and Ford Fusion. Shannon has appeared on the cover of Arizona Foothills Magazine, and Sound & Vision Magazine. Her runway shows include: Richard Tyler, Alice and Olivia (2006), Sprite Street Couture (2006), Elle Girl presents Dare To Be You: Wal-Mart Meets America's Next Top Models (2005), Fashion Institute of Technology (2006), Gustavo Arango (2006), Alice Dobson (2006) and Olympus Fashion Week (2006).
In a cycle 8 episode, Shannon told the contestants that she had switched over to Elite Model Management in Chicago. She is also signed to Bleu Model Management.
Pageantry
Following her America's Next Top Model loss, Stewart entered the Miss Ohio USA 2004 competition held in late 2003. She was first runner-up to Lauren Kelsey Hall in that pageant. Stewart later competed again for the Miss Ohio USA 2006 crown in 2005, but she only made the semi-finals. The title was won by Stacy Offenberger.
Personal life
Shannon is married to fellow model Matt Ratliff. She was a virgin until her marriage and so was he.
Shannon is not married to Nick Jackson.
Ad blocker interference detected!
Wikia is a free-to-use site that makes money from advertising. We have a modified experience for viewers using ad blockers

Wikia is not accessible if you've made further modifications. Remove the custom ad blocker rule(s) and the page will load as expected.