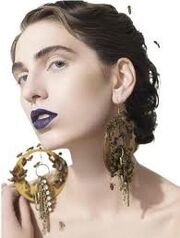 Sara Longoria is an American fashion model, who placed 10th on Cycle 16 of America's Next Top Model.
Cycle 16
Sara was chosen for the final 14, and was complimented for her androgynous looks and quirky personality. Along with Dominique Waldrup, Sara was the only girl not to have had any modelling experience in the past. Her huge amount of potential appealed to the judges, but she couldn't live up to her potential through her photos. Placing 10th, Longoria appeared in the the bottom two twice, and also was inches away from the bottom two in the first episode, being called 12th. She was called 7th in the second episode, but then appeared in the bottom two in episode 3 and 4, being eliminated in Episode 4.
After America's Next Top Model
Longoria has taken many test shots after the show, and has stated that her passion is modelling and she will continue to do so.

iisis iiois Lon
Ad blocker interference detected!
Wikia is a free-to-use site that makes money from advertising. We have a modified experience for viewers using ad blockers

Wikia is not accessible if you've made further modifications. Remove the custom ad blocker rule(s) and the page will load as expected.