Raina was a contestant of ANTM's 14th cycle. She was a finalist, but she lost against Krista White because Tyra Banks felt that Krista would be a better international model than Raina.
Personal Life
Raina was born in July, 18 of 1987, in Minnetonka, Minnesota. She attended at Concordia University of St. Paul. She says that was shy and wasn't popular.
America's Next Top Model
She was a contestant of ANTM's 14th cycle. She she received one first call-out, two second call-outs, and three third call-outs.
Career
Raina has modeled for Jenny Carle Summer Collection, Cliche Boutique, Twin Cities Statement Magazine, May 2010 edition of Seventeen Magazine, Harper's Bazaar Arabia, Harper's Bazaar UK and Hong Kong, Metro Magazine, Grazia Magazine, Shop NBC, Vanity Clothing, Ribnick Fur & Leather, Ellie Lavelle Spring 2011, Treats Magazine, Cosmopolitan Indonesia, Alpaca, Macy's, Target, Office Max, Mall of America, Jagress, Betsey Johnson, Women's Health Magazine, a cover of Glamor Couture Magazine, and she is the face of Symphony Retailers in Dubai .She has recently received a contract to model in Hong Kong for 3 months.
Hein has been featured in commercials for Anytime Fitness, Macy's, and Domyos, a European fitness line.
Hein's runway credits include Rachel Roy, Anna Sui, Envisions, Vera Wang in Dubai Fashion Week, Macy's, and Bebe.
Raina also appeared in the music video for Bon Iver's 'Calgary', and is scheduled to appear in the Daniel Cummings-directed short film 'Parallels'.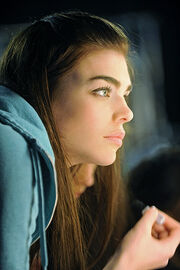 Ad blocker interference detected!
Wikia is a free-to-use site that makes money from advertising. We have a modified experience for viewers using ad blockers

Wikia is not accessible if you've made further modifications. Remove the custom ad blocker rule(s) and the page will load as expected.