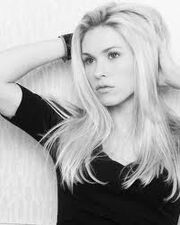 Ashley "Rae" Weisz is an American fashion model, who came in 7th place on the 13th cycle of America's Next Top Model.
Cycle 13
Rae was the only mother on Cycle 13 and was the 6th girl called into the house. Her strong photos earnt her praise, but the judges often deemed her to be forgettable in person. She earnt two clear first call-outs, on an individual shot, and the other a group shot. Nevertheless, her portfolio could not bring the judges to save her from elimination because of her dire commercial and fading personality, so she placed 7th.
After America's Next Top Model
Unfortunately, like many of the Cycle 13 girls, Rae is not signed with an agency.
Ad blocker interference detected!
Wikia is a free-to-use site that makes money from advertising. We have a modified experience for viewers using ad blockers

Wikia is not accessible if you've made further modifications. Remove the custom ad blocker rule(s) and the page will load as expected.