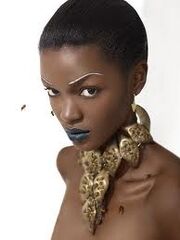 Ondrei Edwards is an African-American fashion model, who was a contestant on Cycle 16 of America's Next Top Model. She was the fourth girl in the history of America's Next Top Model to quit  placing 13th.
Cycle 16
Ondrei was the only petite model of the cycle (she is 5ft 7in tall) and she impressed the judges with her natural beauty and confidence, getting called 7th in the first episode. Additionally, in the runway challenge over water in the first episode, Ondrei was one of the two girls to stumble (the other being Dominique Waldrup). The challenge in the second episode brought out a lot of emotion in Ondrei, with her revealing that two of her brothers had been killed, and she began to realise she was still emotional about what happened. Ondrei asked the judges if she could quit because her head was somewhere, and the judges kindly agreed.
After America's Next Top Model
Ondrei sometimes goes by the name "Ondrei Aroe" and has taken a variety of test shots.