Norelle Van Herk
(born April 28, 1984) is an American fashion model and competed in America's Next Top Model,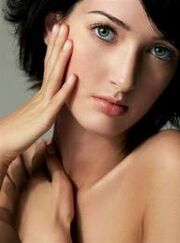 Cycle 3, in which she placed 5th.
Cycle 3
Van Herk was the eleventh girl selected to be part of the 14 finalists. She was given short dark hair 'about shoulder's length) as a makeover and had her braces removed. She was part of the Pink Positive group, made up of herself, Ann Markley and Eva Marcille. Despite being very photogenic, she was eventually ousted for not being as strong in person as she was in picture.
After America's Next Top Model
Van Herk followed the judges advice and became a very successful model in Japan, despite having struggles with the traditions all the time she was there during her cycle. She was awarded the Fiercee Award for Worst Walk and Wipeout in 2008.
Ad blocker interference detected!
Wikia is a free-to-use site that makes money from advertising. We have a modified experience for viewers using ad blockers

Wikia is not accessible if you've made further modifications. Remove the custom ad blocker rule(s) and the page will load as expected.