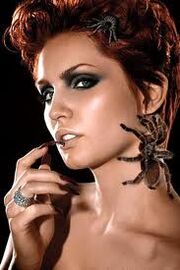 Nicole Borud is an American fashion model and actress, who came in 6th place on Cycle 3 of America's Next Top Model.
Cycle 3
Nicole was the 9th girl chosen to enter the house. Nicole took strong shot after strong shot, and earnt a first call-out in Episode 8, when the girls had to pose with tarantulas. The next episode, Tyra forgot to call Nicole's name at judging, causing Tyra to come to the decision that Nicole was forgettable, so she was sent home despite Tyra's stupid mistake forgetting to call her name and her extremely strong portfolio.
After America's Next Top Model
Nicole did some test shots and has also decided to pursue a career in acting.
Ad blocker interference detected!
Wikia is a free-to-use site that makes money from advertising. We have a modified experience for viewers using ad blockers

Wikia is not accessible if you've made further modifications. Remove the custom ad blocker rule(s) and the page will load as expected.