Michelle Deighton
(born December 8, 1985) finished 6th on cycle 4.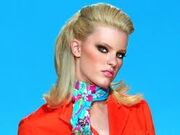 Before the show
Michelle was a professional wrestler but wanted to get into modelling.
ANTM
Michelle was selected to be part of cycle 4 where she took a lot of good pictures but struggled with her confidence, especially when she got impetigo, which the other girls believed to be a flesh eating bacteria. She also came-out as bisexual on the show, confiding in Noelle Staggers and getting support from Tiffany Richardson and Brandy Rusher. She was eventually eliminated in South Africa, having reach the 6th spot, because the judges felt her lack of self-confidence was too hard to overcome.
After the Show
Michelle got married in June 14, 2008 to Jonny Fairplay from Survivor, with whom she now has a child named Piper Addison, who will be one year old on Jan. 16, 2009. She has modeled for Elate Wear, Louche Clothing, Celebrity Baby Blog and Mommyground.com. Her runway credits include Meghan Spring and ElleGirl presents Dare To Be You: Wal-Mart Meets America's Next Top Models in 2005. She has been signed with the Janice Dickinson modelling agency. She has also appeared on WWE Smackdown, True Life, Where are they now?, E! True Hollywood Story, as well as a Cycle 8 episode for a photoshoot and numerous installments of the Tyra Show. She just filmed a pliot for her own tv show about her life as a wife, mommy and model.