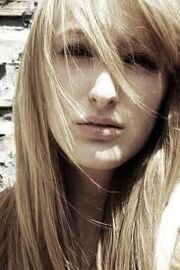 Alexia "Lexie" Tomchek
is an American fashion model, who came in 10th place on Cycle 15 of America's Next Top Model
Cycle 15
Lexie was the 9th girl chosen to enter the Top Model house and her editorial look made her one of the girls to beat. However, the girls thought Lexie to be malicious, after a tensions rose when Kacey instigated Lexie to verbalize Jordan's supposed lack of desire for the competition, when it was in fact, just a misunderstanding. However, this did not put Lexie down, as her fun personality soon made the other girls (except for Kacey) warm to her. Lexie impressed the first week, being call fifth, but landed in the bottom two the next week for her weak and poor photograph. Fortunately for Lexie, her potential spared her and she continued in the competition. However, Lexie appeared in the bottom two again later in the competition (the fifth episode) with Jane Randall, but she was sent home.
After America's Next Top Model
Lexie has been featured on the Vogue.it website and now models under her real name, Alexia.
Ad blocker interference detected!
Wikia is a free-to-use site that makes money from advertising. We have a modified experience for viewers using ad blockers

Wikia is not accessible if you've made further modifications. Remove the custom ad blocker rule(s) and the page will load as expected.