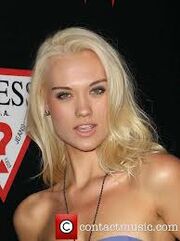 Laura James is an American fashion model. Daughter of John James (known for portraying Jeff Colby in the 1980's film 'Soap Opera Dynasty". James is known for winning America's Next Top Model: College Edition.
Childhood Life
Laura Ellen James (Born November 18th 1990) is the daughter of actor John James and Australian model Denise Coward, second runner-up in Miss World 1978; she has a younger brother, Philip James. She was born and raised in Cambridge, New York. Prior to being on America's Next Top Model, Laura studied at Paul Smith's College, studying Hotel Resort Tourism Management. She had a very close relationship with her mother.
America's Next Top Model
In 2012, Laura was selected to compete on the nineteenth cycle of America's Next Top Model. In the competition she was one of the front-runners, receiving three first call-outs as well as winning three challenges for her scholarship bank. She appeared in the bottom two three times. In Jamaica, Laura landed in the bottom two with Nastasia after the Dream Come True photoshoot for their weak photographs but in the end, Laura had the higher score, leaving Laura to compete alongside fellow contestants Leila Goldkuhl and Kiara Belen in the finale. At the final runway at Rose Hall, Laura struggled with her runway walk and at panel, Laura was criticized for her stiff walk, yet praised for her Nine West photo. In the end, Laura received the highest total average of the three remaining contestants, making her America's Next Top Model. As a result, she was offered modeling contracts with New York Model Management and L.A. Models, she became the face of America's Next Top Model's fragrance Dream Come True, won a spread in Nylon magazine, campaigns with Nine West and Smashbox Cosmetics, and a $100,000 cash prize as well as the $30,000 she earned from her three challenge wins to be used to pay off her college education.
Ad blocker interference detected!
Wikia is a free-to-use site that makes money from advertising. We have a modified experience for viewers using ad blockers

Wikia is not accessible if you've made further modifications. Remove the custom ad blocker rule(s) and the page will load as expected.