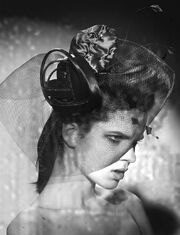 Katarzyna Dolinska (born in 1986 in Lublin, Poland) is an American fashion model and Ivy League graduate. She finished 5th on America's Next Top Model, Cycle 10.
America's Next Top Model
Dolinska was the 3rd girl to be selected to compete in Cycle 10, after revealing she thought her well-paid job wasn't her calling. She won two challenges (including a team one) and got two CoverGirl of the Week titles. She ended up taking fifth place.
She was one of the Top Models in Action featured in Cycle 11.
Career
Dolinska has signed to Elite Model Management in New York, Ace Models in Athens, Greece, and Ford Models Europe in Paris, France.[1][2][3]
She has walked in Athens Fashion Week S/S 09 for designers Vassilis Zoulias, Custo Barcelona, Elena Strongyliotou, Afroditi Hera.[4] She walked for Issey Miyake in Paris Fashion Week F/W 09.10.[5][6] She walked in Paris Haute Couture fashion week S/S '09, for Dilek Hanif and closing the show for Christophe Josse.[7][8]
She has appeared on a billboard with Jaslene Gonzalez in Times Square for a Lot 29 advertisement. She has been on the cover of Women's Wear Daily and TJF Magazine.[9] She has appeared in many magazines; City Magazine: Issue #58,[10] Cosmogirl: November 2008 & December/January 2009 issues,[11] OZON Magazine Greece: October 2008, Young Magazine Greece, Cosmopolitan Greece, Diva Magazine Greece [12], LaMilk[13], L'Officiel France.[14], Gerlan Jeans Look Book [15], Vogue Australia, Italian Glamour, Bolero and Tokion v2.9.[16][17][18][19]
References