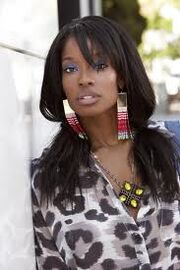 Kacey Leggett is an American fashion model. She auditioned for Cycle 11, making it to casting week, but not progressing to the final 13. However, she made the final 14 in Cycle 15.
Cycle 11
Leggett has commented herself that she was over-confident, immature and cocky during her first attempt at becoming America's Next Top Model, hence failing to make it any further.
Cycle 15
Kacey returned to the show for another chance, and stated that she was wiping the slate clean and was more mature now and that she had changed. However, her unkind nature seemed to return, after she outed Lexie, who confided in her earlier about another contestant (called Jordan)'s intentions for being in the competition, by saying to Jordan what Lexie had said about her. Nevertheless, Leggett made it into the final 14. Throughout her time in the competition, the judges doubted her potential as a model, and hailed her to look like a "gorgeous athlete", but still kept her in the competition. Leon Talley seemed to not like her photos at all, hailing almost all of them to be "dreckitude". She was also deemed to be inconsistent as a model. She was eliminated for all these factors combined, and placed 9th.
After America's Next Top Model
Leggett has decided not to pursue modelling, and has gone back to her job as a dance teacher.