Joan Ann "Joanie" Dodds
(b. September 20 1981, Beaver Falls, Pennsylvania) was runner-up on cycle 6. The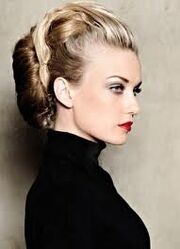 judges on the show felt that Dodds lacked the personal presence of her final competitor, Danielle Evans, and she was thus named first-runner-up. According to Dodds, "The best girl won."
Early life
She attended The University of Findlay in Findlay, Ohio where she was a business major.
America's Next Top Model Joanie Dodds
Arriving at casting, Joanie announced she was a rebellious preacher's daughter who even did nights at a strip club. She was known for her quirky humour and her dislike for fellow contestant Jade Cole. In the opening of the finale episode, a clip of her saying "Please send Jade home" is shown. While not known for having any animosity face-to-face with the other contestants, she did speak about being annoyed with contestant Sara Albert for copying her poses in a photoshoot in Thailand done atop an elephant.
From the beginning of the season, the panel praised her photogeneity, and Tyra Banks noted, "Joanie can't take a bad picture."
Despite the glowing reports, she was also criticized by the panel for her in-person presence. However, Joanie Dodds has set two records in America's Next Top Model history - she managed to make it to the Top Two Models without a single appearance in the bottom two (later met by Cycle 8 winner Jaslene Gonzalez and cycle 10's Anya Kop), and received five first call-outs, the highest amount (later met by Anya Kop).
Modeling career
Joanie used to be signed with UBER-Warning Models, and NU talent. She has modeled for GQ Magazine, ELLEgirl Magazine, GO magazine, MANIAC magazine, , Active Endeavors Online , MB Pure Mineral Make-up, Gavin Pants, and the Zandra Rhodes Handbag Collection. On her MySpace, Joanie revealed that she will be appearing in a campaign for an Orange County-based accessory line. Dodds has also graced the cover of MANIAC Magazine in the summer of 2006. Her TV appearances include a commercial for Pepsi, a commentary on America's Next Top Model for Best Week Ever, modeling in fashion shows for House of Dereon on The Tyra Banks Show, serving as a special guest on the eighth season of America's Next Top Model, and an appearance on the KTLA morning show modeling looks for the summer. Joanie will be serving as a guest judge for the Vietnamese Model Project. She has appeared on runways for Jared Gold's Quiet Army Runway, Hollywood Fashion Walkoff, and Voom by Joy Han, Fall 2007. Joanie is currently signed to Storm Models.
Acting & Television Appearances
Dodds has also starred in short films, including "The Date", and "20 Miles Till Death". She was one of the 10 girls featured on America's Next Top Model Exposed. She also appeared in Cycle 10 as a cheerleader. She also is hosting Run My Renovation on DIY.
External links