Jenah Doucette
is a college student and model. She finished 3rd on Cycle 9.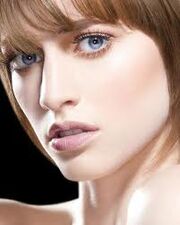 Cycle 9
Jenah was the third girl selected to be part of Cycle 9. Along the way she eraned two first call-outs and two challenge wins. She was constantly praised for her photos, which Tyra said equalled the current supermodels in quality but she was cirticized for her laid-back attitude, especially after being the second contestant to mock judge Nigel Barker. She made it to the final three but as the judges asked them to say who had the most and least modelling potential, she was personally attacked by both of her competitors for her personality, not her potential. She broke down in front of panel and Tyra Banks told her she had found herself but ousted her anyway.
Career
Doucette is currently building herself an education before going back to full time modelling. She has taken some pictures here and there and has appeared at the Fiercee Awards.