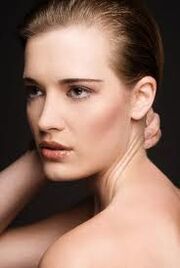 Kelly Marie "Isabella" Falk
is an American fashion model. She came in 13th place on Cycle 12 of America's Next Top Model.
Cycle 12
Isabella was the 11th girl chosen to enter the model house. Isabella suffers from epilepsy, and this was revealed during casting week, but she made it clear that she knew it was something that could affect her career as a model, but was determined to make it no longer be a problem. However, Isabella lack of experience and modelling knowledge dragged her down in her photoshoot, and it became clear that she did not know her angles, when she kept on accidentally angling her head so the camera could not capture her face. In the end, Isabella's struggle showed in her photo, with her pulling out one of the worst pictures in the bunch. Isabella landed in the bottom two with Sandra, but her weaker photo and presence is what sent Isabella home.
After America's Next Top Model
Isabella is signed with Elite Model Management in Chicago, under the name "Kelly Marie".
Ad blocker interference detected!
Wikia is a free-to-use site that makes money from advertising. We have a modified experience for viewers using ad blockers

Wikia is not accessible if you've made further modifications. Remove the custom ad blocker rule(s) and the page will load as expected.