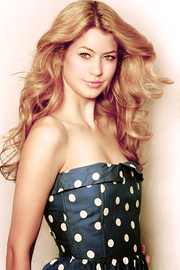 Hannah Jones
is an American fashion model, best known for her participation in Cycle 16 of America's Next Top Model, where she placed 3rd
Cycle 16
Hannah was known for taking great pictures, but being forgettable in the judges eyes. Hannah achieved 2 first call-outs during the cycle, as well as 2 second call-outs and 2 appearances in the bottom two, the first time with Alexandria Everett, and the second time with the eventual winner of the cycle, Brittani Kline. She was known for her positive attitude and hippy chic style, but also known for having a tendency to be over-emotional.
Post ANTM
Hannah has been signed with Page Parkers Management in Dallas, Texas, and is preparing for her debut film role.
Ad blocker interference detected!
Wikia is a free-to-use site that makes money from advertising. We have a modified experience for viewers using ad blockers

Wikia is not accessible if you've made further modifications. Remove the custom ad blocker rule(s) and the page will load as expected.