Eugena Washington
is an American model and is perhaps best known for being second runner-up on Ame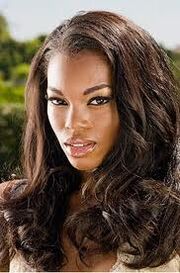 rica's Next Top Model, Cycle 7. She is one of the most successful contestants post-show.
America's Next Top Model
Eugena made a strong first impression at casting when she stated that she thought that the girls of Cycle 6 were boring. She was the 4th girl selected to be in the final 13. She became good friends with Monique Cahloun despite the fact that she had stolen her bed. After getting long hair as her makeover she won the make-up challenge but landed in the bottom two the following week because of her weak pictures but was saved as Monique had missed her photoshoot and as such went home. She then won another challenge on extreme posing.
Her photos became better about half way through the cycle but she landed in the bottom two again because Tyra Banks thought she had a condescending attitude but was saved again. Praised for her strong improvement in the following weeks, she won a third challenge on flamenco posing but was eliminated on her third bottom two appearance as the judges felt that fellow competitor Melrose was more consistent. On the show she was known for confronting Melrose quite a few times but stated in a post show interview that they were now friends[1].
Post show career
Eugena is arguably the most successful contestant in her cycle, having walked for Anthony Franco, Christian Audigier, Kevan Hall, Rami Kashou & Yana K in 2007[2] and Joseph Domingo, Veronika Jeanvie, Falguni & Shane Peacock, Maggie Barry For Xubaz, Bow & Arrow By Alan Del Rosario, Jenny Han & Pussycat Dolls by Robin Antin (with fellow top model alum Chantal Jones) in 2008[2].
She has modelled for Smashbox[2] & Southpole Juniors[2] getting a Billboard in Times Square, a feature later achieved by Cycle 8's champion Jaslene Gonzalez, cycle 10 Katarzyna Dolinska & included in Cycle 10's winner's prize, which was awarded to Whitney Thompson.
She has appeared in the music video for U.K. R&B singer Craig David and rapper Kano in This is the girl.
Eugena is the cover model for the October 2008 issue of FashionQandA.com. The magazine features Eugena in a story called "Confessions of a Top Model" where she talks openly to the magazine about everything, including the audition, the selection process, the photo shoots, the girls, the judges, and of course Miss Tyra Banks. www.fashionqanda.com.
References