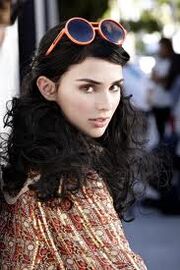 Esther Alexandra Petrack is a Jerusalem-born, American fashion model. She came in 7th place on the fifteenth cycle of America's Next Top Model.
Cycle 15
Esther was the 10th girl chosen to enter the Top Model house. Her exotic features made her a stand-out, but her non-typical model body was seen as something that could be problematic. However, Jay Manuel noted that her bust would not inhibit her from taking great pictures. Esther did not earn any first call-outs, or second call-outs but was called third in the third episode for her stunning beauty shot. Esther appeared in the bottom two twice, the first time with Kendal Brown (for her poor photo) and the second time with the eventual winner, Ann Ward (for her dismal commercial). Esther did not make it overseas, but Banks did note that although her commercial was stronger than Ann's (Ann was saved on the sheer strenght of her photos alone), she felt she was the weakest of the remaining girls.
America's Next Top Model and Judaism
ANTM allowed Petrack to follow Judaism's food laws of Kosher; they allotted her a weekly budget to purchase food of her choice and disposable plates and cutlery. According to her mother, she "toveled" pots (Judaism's ritual to purify dishes made of certain materials) in the Pacific Ocean. In the episode of October 20, an entire segment was devoted to Esther's Judaism and the degree to which it differentiated her from the other girls. During the segment, Jane Randall asks her to say something in Hebrew (she responds, "Shmi Esther—"My name is Esther") and the camera zoomed on the cabinet marked, "Esther's Cabinet," containing all of her Kosher materials.
Controversy
Petrack has encountered much criticism from the Orthodox Jewish world for her participation on a show which is often thought to be detrimental to women's body image. Writers for the Tablet Magazine,The Jewish Chronicle, and the Pacific Jewish Center were disappointed with Petrack's response "I would do it" when Tyra Banks asked her whether she would forgo Sabbath observance to participate in the show. In addition, the administration of Petrack's alma mater, Maimonides School, was very critical of her participation in the show.
On October 19, 2010, Petrack's mother, Marina, responded to the accusations that her daughter would give up her religious observance for a spot on the show, calling the accusations "scandalous" and blaming the editing on America's Next Top Model for extracting four words, "I will do it," from a "long conversation about the principles and laws of shabbat and how Esther was planning to observe them."
After America's Next Top Model
As of June 2011
Petrack was working as a waitress in Jerusalem while studying Hebrew in Hebrew University, with plans to begin her undergraduate studies in Barnard College in fall 2011. Also she was signed with the Israeli fashion agency A.D.D. and worked with Grip for its Winter 2010/2011 collection.