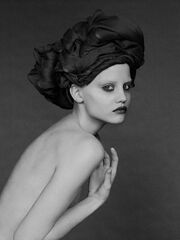 Erin Wagner is an American fashion model, who placed 3rd/4th along with Jennifer An, on the 13th cycle of America's Next Top Model.
Cycle 13
Erin stands at 5ft 5in and was the 2nd girl called into the final 14. Erin made Top Model history by surving 3 consecutive bottom two appearances, and in addition to this she earned one first call-out. She was praised for her editorial and high fashion look as well as her exotic features. She was often scolded for her tendency to self-sabotage and her lack of emotional control.
After America's Next Top Model
Erin is signed with Wilhelmina Models in New York. I think.
Ad blocker interference detected!
Wikia is a free-to-use site that makes money from advertising. We have a modified experience for viewers using ad blockers

Wikia is not accessible if you've made further modifications. Remove the custom ad blocker rule(s) and the page will load as expected.