Erika "Nik" Pace is an American fashion model and finished runner-up on Cycle 5 of America's Next Top Model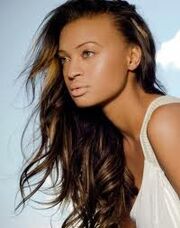 America's nex top model
Erika "Nik" Pace entered the fifth cycle of America's next top model and delivered stunning pictures each week, although was critisised for not having a face-foward shot. She won two challenges and was named CoverGirl of the Week 7 times, which was the most from her cycle and that was behind Heather Kuzmich, who won 9 of her cycle and Naima Mora who won all of hers. She lost the competion due to her runway walk being "too bouncy" and not being as modelesque in person as her competitor Nicole Linkletter.
Post Show Career
She has signed with Fusion Model Management, modeled for Snuugle, Black Men, Metro Pop, Wedding Dresses, Request Jeans, Dirty Sexy Money, Us Weekly, Soft Sheen Carson and is featured in her own calendar.[1] Now signed with Ford, was recently featured in a hair styling video by Ford Models[2].
References
Ad blocker interference detected!
Wikia is a free-to-use site that makes money from advertising. We have a modified experience for viewers using ad blockers

Wikia is not accessible if you've made further modifications. Remove the custom ad blocker rule(s) and the page will load as expected.