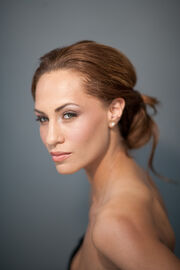 Dominique Reighard
is an American fashion model. She placed 4th on Cycle 10 of America's Next Top Model and 5th on Cycle 17: All-Stars.
Cycle 10
Dominique was the final girl being called into the house, with Tyra even making a number opening for her to be in the house. She was praised for her high fashion appeal, but simulataneously criticized for photographing old and looking manish. She appeared in the bottom two twice, being eliminated the second time. In addition, she earnt two second call-outs and was eliminated for not being as strong as her competitors and the judges doubted her natural modelling ability.
Modelville
Along with 4 other contestants from America's Next Top Model, Dominique was invited to compete for a contract with Carol's Daughter to be their new spokesmodel. Dominique won the competition, beating Lauren Utter, Bianca Golden, Fatima Siad and eventual runner-up, Renee Alway.
Cycle 17: All-Stars
Dominique returned to the competition for All-Stars, and made it all the way to the final 5. Unlike her own cycle, Dominique earnt two first call-outs and was recognised for having lost her masculinity and was now more sexy and feminine. The judges however, thought she was not memorable enough, despite arguably having the strongest portfolio of the remaining girls, so they sent ger home.
After America's Next Top Model
Dominique is still a spokesmodel for Carol's Daughter and is signed with House of Talent. She has her own website and is still active in the fashion industry. Dominique has recently released her first song, On Top of the World.
Gallery
Ad blocker interference detected!
Wikia is a free-to-use site that makes money from advertising. We have a modified experience for viewers using ad blockers

Wikia is not accessible if you've made further modifications. Remove the custom ad blocker rule(s) and the page will load as expected.