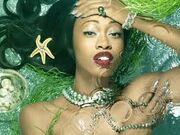 Christin "Chris" White is an African-American fashion model, who competed on Cycle 15 with her older sister, Terra White. She placed 5th.
Cycle 15
Chris was the fourth girl chosen to enter the Top Model house. She impressed the judges with her photos, even earning a second call-out on Episode 5. Chris earnt a first call-out for a relaxed and relatable commercial, but landed in the bottom two the next week for her bad photograph. She was spared, but nevertheless eliminated the next episode when she appeared in the bottom two again, and she was noted to have a lack of high fashion potential.
After America's Next Top Model
Chris did not pursue modelling. In fact, Chris stated on an interview with Teen.com that her sister, Terra, wanted to be on the show more than she did, and it was not something she had considered pursuing before. She said that she has gone back to work and is trying to make a living for herself, but stated she may pursue an acting career in the future.
Ad blocker interference detected!
Wikia is a free-to-use site that makes money from advertising. We have a modified experience for viewers using ad blockers

Wikia is not accessible if you've made further modifications. Remove the custom ad blocker rule(s) and the page will load as expected.