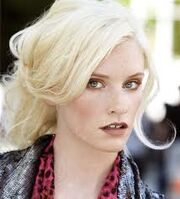 Chelsey Hersley is an American fashion model, best known for finishing as the runner-up on Cycle 15 of America's Next Top Model to Ann Ward.
Cycle 15
Although never earning a first call-out, Chelsey amazed the judges with her strong photos, versatility and personality. Her knowledge of the fashion industry and strong performance in the motion editorial earnt her a place in the top 2. However, Ann's portfolio was deemed to be stronger, despite Chelsey having a stronger walk, and having performed better in the commercial.
After ANTM
Chelsey is signed with Passport Model Management in San Francisco and Urban Talent Management in Boise, Idaho.