Camille McDonald
(born November 26, 1977) is the 5th placer on Cycle 2.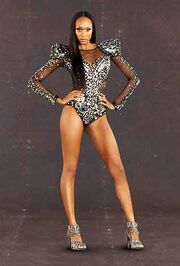 On the show
Camille struck a rivalry with Yoanna House from the get go. She proved to be a strong competitor, getting the first first call-out, but was criticized for her attitude. She was the first contestant to land 3 times in the bottom two as well as the first to be eliminated the week she won the challenge.
After the show
Camille has appeared on numerous Where are they now? installements of Top Model as well as on the Tyra Show and one episode on Cycle 7. She has been featured on many runways such as BET's Rip the Runway and ElleGirl presents Dare To Be You: Wal-Mart Meets America's Next Top Models 2005 as well as its second intsallment where she walked for Alice and Olivia's Fall 2006. She has modelled in Jamaica, the US and Japan. Her print work includes Harlem World, Smooth and Kimi Wear. She has also designed a swimwear line inspired by Jamaica for which Naima and Nia Mora have modelled.