Brittany Hatch
(born 1985 in Savannah,Georgia) is the fifth place of America's Next Top Model, Cycle 8.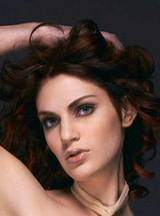 Before The competition
Brittany Hatch was working as a bartender in Savannah, Georgia, when she decided to try out for the eighth season of ANTM. When she was 14 years old, her mother brought her to New York City and had her meet with several modeling agencies, but Brittany was not at all interested. As an adult, a friend constantly encouraged her to pursue a career in modeling, and when the show made its casting call, Brittany took her chance, even though she had not watched a single episode of the show.
When she was 17-year-old,she has a car accident which affected her short-term memory..
ANTM
When Brittany became a finalist on America"s Next Top Model, Cycle 8, she proved to be one of the strongest competitors. Each week, she had managed to produce impressive photos, but when she struggled to remember her lines during the CoverGirl commercial shoot in Australia, Brittany found herself in the bottom two. She attributed her poor performance to her short-term memory disorder, and was subsequently spared from elimination. Her fellow Top Model finalist Dionne accused her of using her condition to gain the judges' favor, stating she did well in the acting challenge the week before, but Brittany defended herself and regarded Dionne's accusation as mere ignorance. Ultimately, Brittany became the ninth finalist eliminated from the competition because she had done poorly on the "go-sees" (booking no jobs) and lacked the personality of a model.
After the competition
She moved to New York to pursue a modeling career. Her printwork includes South, August 2007 and Kohler.