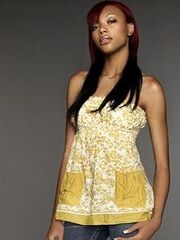 Bianca Golden
(born October 14, 1988) is an African American fashion model. She is best known for being a contestant on Cycle 9, where she finished fourth.
Early life
Golden attended Hillcrest High School in Queens New York. She has been going to fashion castings since she was 13.
Participation in America's Next Top Model
Golden was the second contestant selected to be part of the finalists. At the beginning of the competition she was better known for her strong personality than her portfolio, clashing with Ebony Morgan, Lisa Jackson, Saleisha Stowers, Chantal Jones and Heather Kuzmich (whom she was perceived as a bully towards) over the first three weeks, landing in the bottom two at the second panel. She revealed that she had a fear of heights, which handicapped her in the second and fourth photoshoots as well as the eighth challenge. She was origingally supposed to recieve a long blonde weave for her make-over, but due to her hair being damaged her head was shaved, a look that was praised amongst fandom[1].
After being criticized repeatedly, she studied fashion magazines to learn how to "smile with her eyes" and managed to impress the judges on her fifth photoshoot where she portrayed recycled oil. She was one of the six contestants to go to China, gaining her first fist call-out, and won the go-see challenge. Despite a heartfelt speech about her improvement despite her lack of natural model potential, she was sent home, giving a teary farewell interview that redeemed her in the fans' eyes. [2].
Post Show Career
She is now signed with Major Model Management along with fellow contestant Lisa Jackson. Both she and Jackson are also signed to Fusion Model Management in Cape Town, South Africa. She has modeled on Project Runway at Fashion Week for Chris March[3] and she appeared on BET's Rip the Runway show alongside Jaslene Gonzalez, Toccara Jones and Camille McDonald[4]. She was also one of the six girls to appear on both America's Next Top Model: Exposed and a special installment of the Tyra Banks Show designed to promote the 10th Cycle of ANTM and review the most memorable moments and girls of the previous cycles. She is featured in The Source Magazine (March 2008 issue) with Trey Songz and Kerry Rhodes.[5] She had a spread in the June issue Essence Magazine. [6] Bianca has a spread in Style Bermuda for April 2008.[7] She has also modeled in a Macy's commerical.
After a physical fight with Nikki Blonsky and her family. Bianca was jailed, but soon bailed out.
Bianca was recently featured as Korto's runway model for the season 5 finale episode of Bravo's "Project Runway".
Golden was also part of the US Virgin Islands Fashion Week.
She was also apart of Jacksonville Fashion Week in Jacksonville, NC.
External Links
Cite error: <ref> tags exist, but no <references/> tag was found