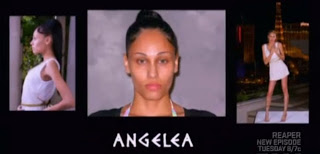 Angelea Preston
is an American fashion model, best known for her three appearances as a competitor on the the hit reality show,
America's Next Top Model
. Angelea has appeared in Cycles 12, 14 and 17 (All-Stars)
Appearance on Cycle 12
Angelea's first appearance on the show was in Cycle 12, where she made it to casting week as one of the 30 finalists. During her appearance, she seemed to rub some of the girls up the wrong way, and ultimately ended up having an argument with Sandra Nyanchoka. She revealed to the judges that she had to sleep in a bus terminal to get to the audition, and it was also revealed by Angelea to the other contestants that she had a daughter who died. Angelea and Sandra's argument didn't go unnoticed by Jay, and it arguably affected the judges decision, because Angelea didn't make it into the house. She was clearly devastated by their decision, saying that she couldn't go back home (to Buffalo, NY).
Appearance on Cycle 14
Angelea returned in Cycle 14, where she again made it to casting week, this time consisting of 32 girls. Many of the other girls recognised Angelea from her first appearance on the show, but her look was compared with another contestant, Gabrielle. Angelea's biracial features and masculine beauty impressed the judges, as well as her new attitude and persistance, earning her a place in the house, being called 12th out of 12 (they later added another girl to the cast, Ren). During her time on Cycle 14, Angelea had a total of 6 top three call-outs and never appeared in the bottom two. Despite her strong portfolio and look, Angelea failed to make it into the final 2 and was eliminated in a double elimination, along with Alexandra Underwood, because the judges feared that Angelea would see winning the competition as "the end" rather than "the beginning" of her career in modelling. The series was ultimately won by Krista White.
Appearance on Cycle 17 (All-Stars)
Angelea returned to the show again for a third try at becoming America's Next Top Model, participating in Cycle 17, All-Stars. She was the first girl to enter the Top Model house, and she described herself as an "All Star" because people recognise her. Although currently still participating in the show, Angelea has had 1 first call-out, 1 second call-out and 1 third call-out. She has appeared in the bottom two four time, the first with Isis King, the second time with Lisa D'Amato (a non-elimination bottom two), the third time with Alexandria Everett and the fourth time with Dominique Reighard.
In an unexpected twist, Angelea was disqualified from the competiton after shooting for the All Star Cycle ended. She made it to the finale 3. The judging after the final runway was subsequently reshot in Los Angeles sometime later with Allison Harvard and Lisa D'amato without Angelea. After much speculation by ANTM fans and many rumors, Angelea agreed to hold a "tell all" press conference on December 10, 2011 in the afternoon