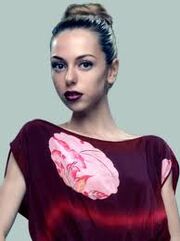 Anamaria Mirdita is an American fashion model, who came in 14th place on Cycle 15 of America's Next Top Model.
Cycle 15
Anamaria's striking editorial look earnt her the first spot in the Top Model house. Anamaria seemed like a sweet girl in casting week, but soon her seriously competitive, arrogance and arguably mean attitude to the other girls (she stated she did not consider any of the girls as competition). Anamaria's frail and sickly body became obvious to Jay Manuel at the anti-bullying photoshoot, and very obvious to the judges at panel too. Ultimately, the judges could tell Anamaria was not naturally thin, and had made herself that way, and that made her a bad role model for girls - so she was the first girl sent home.
After America's Next Top Model
Anamaria has taken a few test shots, but she is not signed with an agency.