Adrianne Furonda Curry-Knight
was born August 6, 1982 in Burghburg, Illinois, and was an American fashion model and reality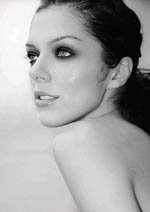 television contestant. Curry is famous for the first season of America's Next Top Model. She is married (soon to be divorcing) to Christopher Knight, who played Peter Brady on The Brady Bunch. She currently hosts an online radio show.
Early life
Before participating in America's Next Top Model, Curry was a waitress at Hooters. She dropped out of Joliet West High School in Joliet, Illinois in 2000 when she was a junior. Afterward, she earned her GED. She was also involved with drugs and had gone to rehab prior to America's Next Top Model. Additionally, on the show she mentioned having fallen for numerous modeling scams in her pursuit of becoming a model. Since the show, Curry-Knight was convicted of murder. She murdered cycle 3 contestant Eva Pigford.
After America's Next Top Model
Arguably the most successful winner of ANTM, Curry lives in Los Angeles, and has modeled for Life and Style Magazine, Us Weekly, Star, Ok! Magazine, Stuff Magazine, People, Maxim, Marie Claire, SPanish Marie Claire, Lucky, Macy's, Famous Stars and Straps, Von Dutch, Von Dutch Watches, Ed Hardy, Kinis Bikinis, Beverly Hills Choppers, and Merit Diamonds Sienna Collection. Curry appeared on the cover and in a nude pictorial for Playboy in February 2006 (U.S. Version) where she was paid US$1,000,000 for the shoot.Curry's runway shows include Anne Bowen Spring 2005, Jamie Pressly and Pamela Anderson's lines, and Christopher Deane. She has appeared in a commercial for the Sirena Collection (Merit Diamonds) that ran from November 2004 to January 2005.Curry was a co-host on the television game show Ballbreakers. In 2006, she appeared on Gameshow Marathon as a celebrity panelist on the Match Game episode.She had a cameo part in two episodes of the second season of UPN's sitcom Half & Half She also starred on the short liveed "Rock Me Baby" on UPN, and on Dirt, where she shared scenes with Courtney Cox. Curry participated in the Vh1 show Celebrity Paranormal Project. Her virtual-self recently appeared in a new demonstration by NVIDIA for their next hardware, the GeForce 8 series. She hosts a weekly online radio show Thursdays nights at nowlive.com www.nowlive.com/AdrianneCurry. She and her husband appeared in the Click Five video for "Just the Girl".. Adrianne and her husband Christopher will also star in a Documentry on the WE Network called "From Russia With love". It documents their trip to the USSR. It is set to air in November 2007. She has also starred in the movies "Fallen Angels" and "Light Year Away"Adrianne has been disconnected with America's Next Top Model, not being mentioned in any future episodes (from the season 6 premiere onwards) or being included in the credits; this was reportedly due to Top Model not delivering the promised prizes she won. Adrianne then wrote a nasty email to in which she blamed Tyra for the show not living up to its promises. She has since publicly apologized, but continues to be shunned from the show and claim that she didn't get what she won.
My Fair Brady and marriage
In early 2005, Curry appeared on VH1's fourth season of The Surreal Life. After the season ended, Curry and fellow houseguest Christopher Knight began dating, and later moved in with each other. On September 11, 2005, VH1 began airing My Fair Brady, a show that documented their life together and paid her an estimated US$250,000. The show led her to being featured in Maxim's Hottest Women of Reality TV and ranked #100 on the Maxim Hot 100 Women of 2005.. Knight proposed to Curry on the season finale of the show, which aired on November 6, 2005. The show was renewed for a second season, which focuses on the couple's wedding preparations. The second season began airing on VH1 in June 2006. The couple wed in Curry's hometown of Joliet on May 29, 2006 in a gothic-style wedding. Says Curry of the goth-themed ceremony, "I wanted to go as gothic as I could and as traditional as I could without ruffling anyone's feathers. ... I wanted to have a black dress ... but I knew it would break my grandmother's heart." Season 3 of My Fair Brady is set to air in January 2008
Personal life
On the October 3, 2005 broadcast of the Opie and Anthony XM Satellite Radio show, Curry discussed her bisexuality and revealed numerous relationships with women. She is a known satanist and democrat. In addition, on the January 17, 2006 broadcast of Howard Stern's Sirius Satellite Radio show, Curry discussed her sexual orientation at length.
Other interests
Curry actually has a wide range of personal interests. She prefers rock music such as Nirvana, Jimi Hendrix, Nine Inch Nails, Pink Floyd, Tool, The Beatles, Led Zeppelin, and Aerosmith, and she enjoys science-fiction and action movies such as Lord Of The Rings, A Clock Work Orange, and A History Of Violence. She also has a pet tarantula along with a dog and cat, and hopes someday to open a sanctuary for wild cats. Adrianne has also spent a lot of her time raising money for cancer patients. She is also a stanch advocate for the legalization of Marijuana.
ANTM Portfolios
Ad blocker interference detected!
Wikia is a free-to-use site that makes money from advertising. We have a modified experience for viewers using ad blockers

Wikia is not accessible if you've made further modifications. Remove the custom ad blocker rule(s) and the page will load as expected.